... in the heart of Vancouver, WA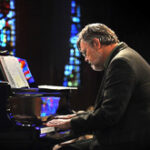 All are Welcome! Services on Sunday both LIVE and on  ZOOM at 10 am.
News: Join us Sunday, September 26, 2021, at 2 pm PDT - Composer and pianist Thomas Keesecker will lead us in an inspirational hour of piano music, reflection, poetry, laughter, and hymn singing.. [ link for more ]
For more information and the ZOOM Meeting Link email Pastor Linda Marousek: Pastor@stpaulvancouver.com
St Paul Lutheran Church is a parish of the Evangelical Lutheran Church in America [ELCA] in downtown Vancouver, WA.